The Tankwa Karoo National Park is situated beneath the Roggeveld mountains and is named after the river that runs through the park. The Khoi-word "tanqua" allegedly means "troubled waters", "dry river bed", "place of the San" or "dorsland".

Over a relative short distance - more or less 50 km - a large variety of plants can be seen and it lies within the Succulent-Karoo-biodiversity focal point. The landscape gradually changes from harsh desert to dense vegetation on the slopes of the Roggeveld Mountains.

Various unique birds can be seen in these areas, among others, the very rare Burchell's courser. It is a paradise for birdwatchers. Most of the 18 bird species that appear only in the Karoo,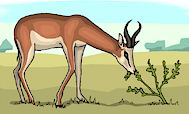 can be found here. Be on the lookout for the Karoo eremomela, the Namaqua Prinia, the cinnamonbreasted warbler, the Pririt batis, Ludwig's bustard, the blackeared finchlark, and the greater kestrel. At Oudebaaskraaldam you will see flamingoes, avocets, South African shellducks and Karoo korhaan.
Animals that you will probably see are the Cape mountain zebras, springbok, gemsbuck (Oryx gazella), red hartebeest, bat-eared jackals and anteaters.
The atmosphere is tranquil and there is much to explore. You will find friendly hosts, exquisite nature scenes, wide open skies and above all, peace for your soul.